About the Precinct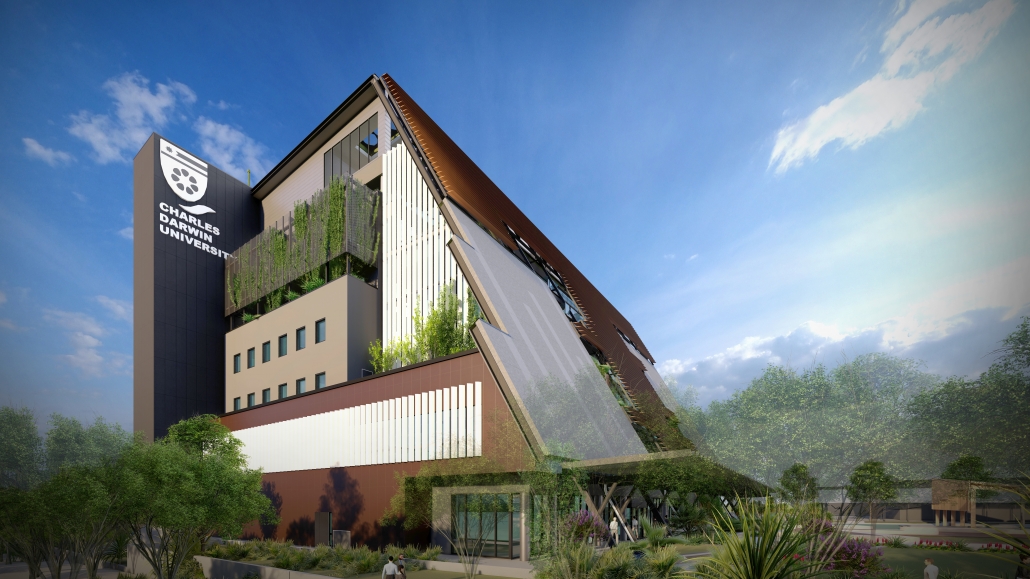 The building design has been developed by local architects, MODE, to respond to the tropical climate of Darwin.
The heritage listed Boab tree is the focal point of the design, creating a new public gathering space for the people of Darwin.
The building form has responded to the Boab, with a sloping façade form to ensure the tree is not overshadowed and is provided with the necessary sunlight to ensure the continued long life of this special landmark of the city.
A layered façade with louvre screens and external terrace spaces protects the building from the direct heat loads of the harsh tropical sun, while creating a sense of permeability and connectivity between internal spaces and the external community spaces.
Large covered spaces blur the boundaries between internal and external spaces, integrating the functionality of the building into the community spaces, while providing protection from both the heat and driving storms.
The teaching areas will be in the middle levels and staff offices on the top floors.
This is a practical design that aids the flow of people. Staircases will link key floors to promote interaction of people in the building and not solely rely on the available elevators.
The landscaped terraces, which can be accessed from inside the building, help contribute to the permeability and connectivity between inside of the building and the outside environment.
Outside, the Boab tree has been the catalyst for a large area of landscaped open space which will be a real oasis of shade and foliage on what used to be one of the hottest locations in Darwin's CBD.
This significant project will showcase the Northern Territory and CDU Libraries and the University's Art Gallery.
The Precinct will be able to support events and accommodate food trucks in an undercover area. It will have an area for physical activity and a basketball half court.
The project team has collaborated with the Darwin City Deal's CSIRO Darwin Living Lab to make the building as energy efficient as possible. The Lab aims to improve liveability, sustainability and resilience in the face of Darwin's hot climate.
Relevant national and international sustainability rating systems have been used by the design team for benchmarking.
This benchmarking has informed the selection of sustainability initiatives that are appropriate for the project.
Darwin City Deal
For a more detailed look into the Darwin City Deal's 10-year plan to reinvigorate Darwin's central business district, download the brochure below.