Bright future for historic Boab tree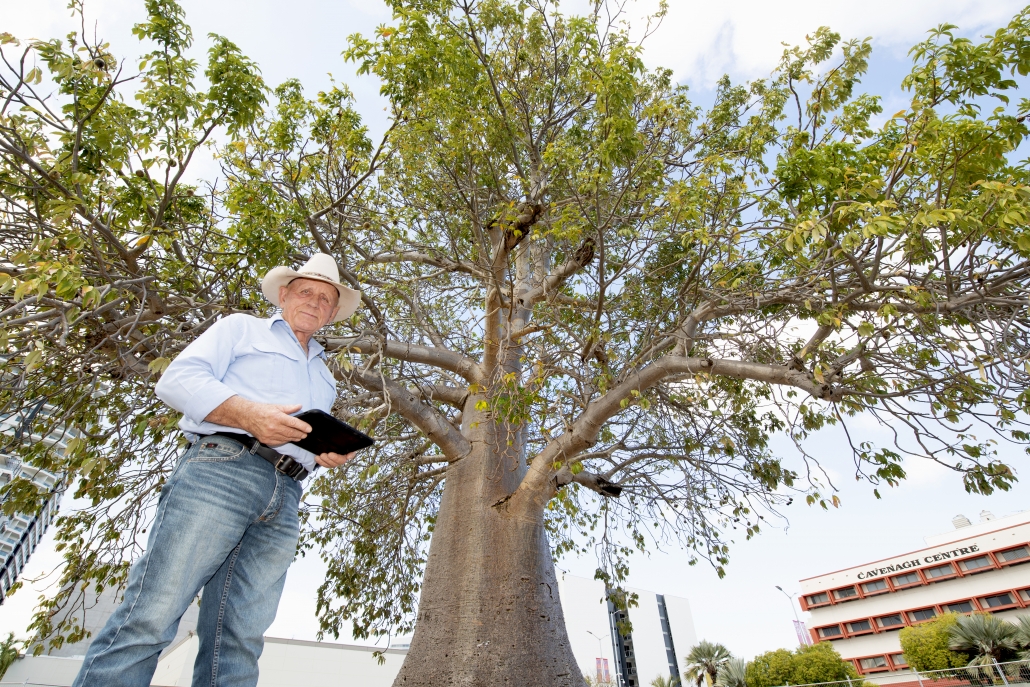 The historic Boab tree on the site of Charles Darwin University's city campus will be protected and become a key feature of the new campus into the future.
The new precinct is the centrepiece of the Darwin City Deal and will feature a new CBD campus for CDU, the Northern Territory Library and extensive greened public areas.
The heritage-listed and century old Boab tree, which is believed to have been planted in the 1880s and was a landmark of the original Darwin Primary School and Darwin Adult Education Centre that previously occupied the site.
The Boab tree, expected to be more than 140-years-old, is a tangible reminder of the history of education on the site that dates back to 1877 and the future learning and education services that will be provided to students on this site for years to come.
A protection zone around the Boab tree has been established around the tree and an expansive landscaped area will be created on the site to create the best environment for the Boab.
Darwin arborist Bill Sullivan has been tasked with the development of a Tree Protection Plan for the Boab tree together with 21 Bismarckia Palms on the site boundary.
CDU Vice-Chancellor, Professor Scott Bowman AO said the university was proud to have the much-loved Boab tree on its grounds to be enjoyed by generations to come.
"We know how special this tree is to the Darwin community – that's why we're ensuring it's front and centre in the next chapter of learning on this historic site," Professor Bowman said.
"Excavation for the main building had been carefully considered around the tree to not disturb the root system," Professor Bowman said.
"Upon arborist advice, we are going to build a raised wood deck around the tree to reduce soil compaction from foot traffic impacting the root system. This will make the tree a central feature of the new campus while also ensuring its ongoing health."
Mr Sullivan said the preservation of the Boab tree would be an integral part of the development.
"Careful planning will be required at all stages of the project to ensure its historical and cultural values are preserved for future generations," Mr Sullivan said.
Under the Tree Protection Plan, tree protection zones will be established on the site to eliminate the potential for damage to the trees by excavation and construction.
"Not only will the trees on the site be protected, but they also will now be cared for and regularly maintained," Mr Sullivan said.
Irrigation, fertiliser and mulch will be used to maximise the health of the trees. If dust becomes an issue on the foliage, they will be hosed clean.
The construction phase of the project is expected to begin in the middle of the year and run until late 2023.
The City Deal is a joint initiative of the Australian and Northern Territory governments and the City of Darwin.
https://educationcommunityprecinct.cdu.edu.au/wp-content/uploads/2021/04/Arborist-Bill-Sullivan-7-scaled.jpg
1707
2560
Jon Taylor
https://educationcommunityprecinct.cdu.edu.au/wp-content/uploads/2020/06/346x156-logo.png
Jon Taylor
2021-04-28 00:07:25
2023-03-07 05:11:11
Bright future for historic Boab tree